On September 29, Haikou Meilan District and Huawen Group officially launched Haikou water cruises in Haikou City, the capital of China's Hainan Province. Starting during this year's National Day holiday, cruises through Haikou Bay and the Haidian River will offer unique night views of Haikou. 
A rendering of the new luxury cruise boat.
The cruises are planned to operate for 2 years, offering on-the-water tours combining sightseeing, dining, and entertainment, and are projected to become a trendy new Haikou activity.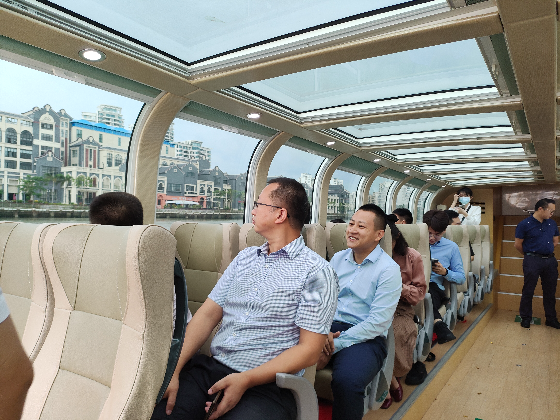 Trial panoramic sightseeing cruise.
Currently, a three-story 192-passenger high-speed boat and a 40-passenger panoramic sightseeing boat are both getting set to sail. The panoramic sightseeing boat arrived at the public pier of Haikou National Sailing Base on September 26, and the high-speed boat will begin voyages around New Year's Day, providing more colorful fun on the water for Haikou.
Panoramic sightseeing boats docked at the pier.
"During the trial operation period, we will mainly offer cruise ship sightseeing, and will also provide dining services. When we launch officially next year, a new, more luxurious cruise ship will be available, with exciting performances on board. Passengers will enjoy entertainment, food, and shopping services," explained a Huawen Group staff member.
The cruises will offer a combination of sightseeing, business, dining, and entertainment.
More night tour lines will continue to be added, incorporating local cultural and creative features and lighting. Passengers will enjoy performances of Qiong (Hainan) Opera and other intangible cultural heritage activities on the cruises.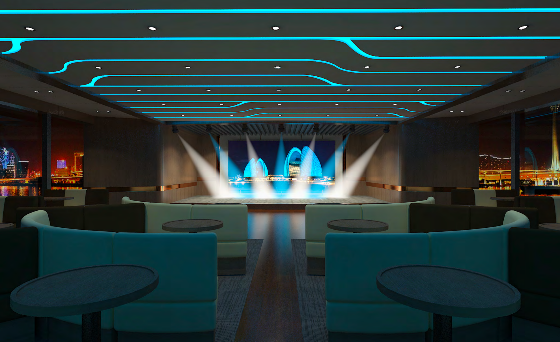 Shows and shopping services will be offered on the luxury cruises beginning next year.
"RMB 86 million yuan will be invested in high standard design, construction, and cruise operation, and these cruises will serve as a benchmark project for Meilan District," said Wu Shengjiao, Mayor of Meilan District.
Eight to twelve cruise pick-up and drop-off sites are planned in Haikou Bay as well as on both sides of the Haidian River. The first 1-2 sites are scheduled to be completed by the end of this year, and at least 3-5 more will open by the end of 2024. In later stages, the cruises will expand to cover the Nandu River, Henggou River, Jiangdong New Area, and other Haikou waterways.