From April 10 to 15, 2022, in honor of the third China International Consumer Product Expo (also known as the Hainan Expo), the Haikou municipal people's government launched a "Travel Cultural Feast" to help attendees and residents get a better sense of what a great place Haikou is for leisure, entertainment, cultural spaces, and business- and travel-related consumption. Whether you are visiting for the Expo or not, let's take this opportunity to get a good look at what Haikou has to offer!
01.Clock Tower Light Show
Using abstract elements combined with words, each five-minute light show interprets the themes of the Expo and introduces each of the Expo's venues. Divided into three styles: travel, fashion and domestic products, each disparate element is about 30 seconds long.
Time: 9 April to 15 April, 20:00-21:30
Location: Clock Tower
On January 1, a light show with the theme of "Chimes From the Sea" was staged at the Haikou Clock Tower. [Photo /Dang Chaofeng]
02.Qilou International Bazaar
Featuring a total of 30 stalls, the bazaar includes both international stalls and Hainan specialties ranging from French wine to Indian carpets, and Turkish ice cream to the local dessert Qingbuliang (清补凉). Local intangible cultural heritage items such as coconut carving are also on display.
Time: 13 April to 15 April, 15:30-21:30
Location: Historic Downtown Haikou "Qilou" Pedestrian Street
People visiting Haikou's historic downtown [Photo/ File]
03.Nanyang Old Street Music
A part of the Qilou International Bazaar, this Southeast Asian-style concert will feature live performances of well-known local bands, African drumming and more.
Time: 13 April to 15 April, 19:30-21:30
Location: Clock Tower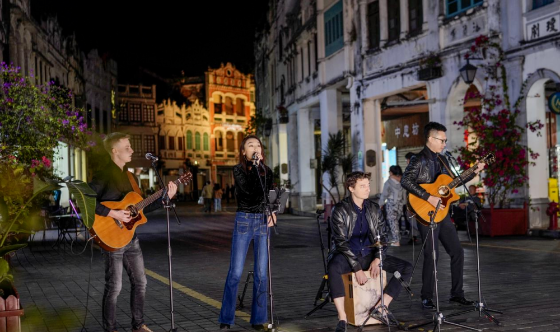 The Rain or Shine Band performing in Haikou's historic downtown.
04.Hainan Intangible Cultural Heritage Exhibition
A 6-day Intangible Cultural Heritage exhibition will be held at the Hairui Cultural Park. Activities include coconut carving, Li brocade, shell carving, Li ethnicity song and dance performances, Miao ethnicity costume performances, and Hainan Opera.
Time: 11 April to 16 April, 19:00-21:30
Location: Hairui Cultural Park
05.Qiongzhou (Hainan) Family Banquet Millennium Culture and Customs Night
Inviting local people and tourists to attend, this Long Table Banquet for thousands of people will provide the opportunity to taste Haikou's century-old brands, traditional cuisine, innovative dishes and local specialties; to experience Haikou's traditional history and culture; and to experience the characteristic folk festival culture.
Use the "2023 Haikou International Consumer Week" smart map applet to make a free reservation.
Time: 13 April from 17:00 to 19:30
Location: Shuixiangkou Feature Cultural Walking Street
[Photo/ File]
06.2023 Haikou Meilan District Intangible Cultural Heritage Art Bazaar
This bazaar will feature intangible cultural heritage, art performances, and interactive experience activities for tourists (such as the Li-ethnicity bamboo dance). There will also be intangible cultural heritage food such as Dingdong candy, sugar flowers, and Hainan rice cakes.
Time: 14-15 April
Location: Tianhui Old Wharf Commercial Street
Old Wharf Commercial Street.[Photo/ Haikou Daily]
07.Check Out while Checking-In
The coastal areas of Haikou's Xiuying Distinct are dotted with a broad collection of sites that are famous online. Enjoy coffee, wine, beach views, palm breezes, and dusky sunsets.
Global collections of watches and rare watch works will be displayed in CDF Haikou International Duty-Free City. During the Hainan Expo, CDF launched a variety of content such as gifts, redeemable membership points, and interactive activities including in-store preferential discounts.
Route Recommendation: 
Holiday Beach——Guanhai Coffee/Yeyutang/RIFFELS Coffee/Origin——YE BAR/Qi Coast/Cloud Camping——Haikou International Duty-Free City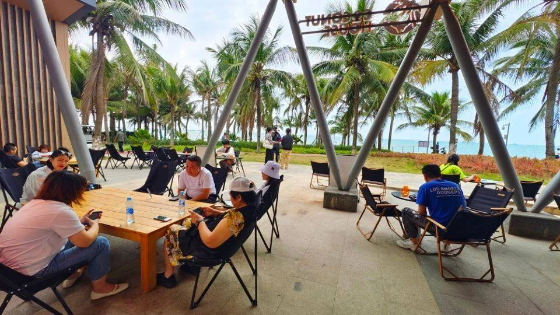 08.Sports and Performances
Allowing the audience to experience the thrill of water sports, the 3rd Hainan Expo Yacht Show is holding nine series of water and land activities (including a boat launch ceremony and brand promotion show, and the Hainan FTP International Yacht Industry Development Forum) at the Haikou National Sailing Base public wharf.
Experience sailing, paddle boarding, and windsurfing at the Wanhairen Sailing and Windsurfing Club, as well as exclusive discounts for the Hainan Expo. And, don't forget to go to Changying Wonderland for a fantasy entertainment experience tailor-made for tourists.
Route Recommendation:
Haikou National Sailing Base——Wanhairen Sailing and Windsurfing Club/Changying Global 100 Fantasy Paradise——Wuyuanhe Stadium
09.Volcanic Culture and Rainforest Exploration
The Shishan Volcanic Group National Geopark in Xiuying Distinct is surrounded by ancient villages full of well-preserved historic architecture built with local basalt.
During the Hainan Expo, the Hainan Tropical Wild Animal Park and Botanical Gardens is holding a gibbon-themed science popularization week and is also offering "exclusive discounts" to people to come and see gibbons.
In Fengtang Green Garden, enjoy an interactive bamboo dance performance, fresh natural air,  and northern Hainanese volcano rock landscapes, rich in wild vegetation and ancient villages.
Route recommendation:
The Volcanic Group National Geopark/Hainan Tropical Wildlife and Botanical Garden——Fengtang Green Garden/Volcanic Spring Leisure Farm/Mingtou Expanding Theme Villa
Information Source:
Xinhua, Sina Hainan, People's Daily, Hainan Daily, Haikou Tourism, Hinews, Haikou Daily.