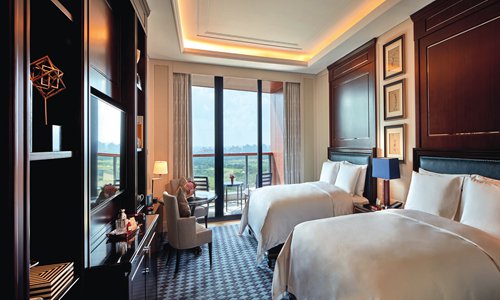 One of the suites at The Ritz-Carlton, Haikou (Photo/Courtesy of The Ritz-Carlton, Haikou)
The newest addition to the prestigious Ritz-Carlton brand, The Ritz-Carlton, Haikou in Hainan Province welcomed its first guests in January. Located inside the Mission Hill Mall near to the famous Mission Hills Resort Golf Course, the hotel offers guests a luxurious sanctuary after a day out on the green.
Reminiscent of an elegant golf manor, the hotel's interior is designed by Hirsch Bedner Associates (HBA), an American international hospitality design firm headquartered in California and pays homage to the age-old tradition of classic golf grandeur.
Haikou was established as a port during the Han Dynasty (206BC-AD220) and still bears features of its colorful past in the form of historical buildings constructed in an array of styles by the Portuguese, French and Southeast Asian traders who routinely docked at the port. The construction and design of The Ritz-Carlton, Haikou was inspired by the island's unique blend of customs and traditions and combines traditional classic detailing with a luxurious contemporary flair.
"Upon arrival, guests will immediately feel a strong connection between the interior space and the sweeping golf course beyond," said Christopher Sommers, the general manager of The Ritz-Carlton, Haikou. "The design concept creates a feeling of intimacy rarely experienced within a hotel room."
Golf's notable insignia, the traditional tartan weave, has been reinterpreted in a distinct stone floor pattern that grounds the space and creates immediate character. Warm natural timber, refined profiles and clean timber wall paneling add a layer of texture and elegance. Aged leathers enrich the classic furniture pieces while tufted buttoning and metal stud details elevate the overall style. Clusters of golf trophies complete the look with a relaxed, homey feel.
The main lobby features a dramatic double volume ceiling with oversized contemporary artworks of landscape paintings for an upscale mansion set up. The famous lobby lounge is filled with cozy seating, commodious balconies, and warm and rich textured finishes that blend into the tailor-made furniture pieces while gridded ceiling panels reflect the tartan floor patterns below.
A three-story-high grand staircase with a stone finish is the heart of the manor's interior, connecting to the lower floor restaurants. Timber wall paneling and decorative metal screens provide a touch of traditional architecture juxtaposed with modern design.
Meanwhile, the guest room tower embodies the spirit of a golf manor. Textured fabrics and geometric patterns inspired by vintage golf elements create a series of framed vignettes that are incorporated with wall paneling and light fixtures to evoke memories of handmade golf shoes, and antique leather on the bed end bench references an aged and patinated golf bag.
The Ritz-Carlton, Haikou's uniquely refined design concept gives guests a space of restrained elegance redolent of the cultured golfer.