Based on the number of guests, each package includes a wedding room, champagne, wedding cake, red packets, invitation cards, table flowers, food vouchers, transportation from downtown and welcome cocktails.
Shangri-La Hotel, Haikou has accommodated hundreds of weddings since it opened its door two years ago. Couples enjoy a dream wedding ceremony and banquet with one-stop worry-free service provided by hotels dedicated wedding specialist. For each wedding, a designated wedding specialist will take care of every detail to ensure a seamless event. In addition to providing support with wedding planning, contract signing, menu design, venue decoration, material preparation and post-wedding services, a wedding butler will also assist the couple during the wedding to make the special day a memorable experience.
The hotel has been named the Top 10 Romantic Hotels of Hainan by Hainan Provincial Tourism Department Committee and OKHIWI Group C the only one Haikou hotel to win this honor, featuring many options of romantic venues, which is also its unique selling point in the local community.
Event venues include The Hall of Splendour, the only seaside wedding chapel in Haikou and an ideal place to host Western-style wedding ceremonies and exclusive wedding parties for small groups or up to 100 guests in its coconut garden. The private soft beach in front of the hotels tropical garden is no doubt ready for a romantic beach wedding. Four areas of the hotels manicured lawn are perfect for a green and fresh wedding. Aside from the fantastic outdoor spaces, two 200-square-metre tents is one of the choices for rainy days and themed wedding banquets. The Grand Ballroom, seating up 50 tables, features luxury crystal chandelier and contemporary, yet elegant decoration.
A distinguished culinary team of head chefs led by English native Executive Chef Philip Birmingham has carefully put together the wedding menu featuring a combination buffet from the East and West and The Chinese set menu includes specially designed dishes.
The hotels products and cuisines is Rooted in Nature and features the finest locally and ethically sourced ingredients, such as local vegetables planted on natural wild fields and grown using organic fertiliser, free-range local chickens and pigs and sustainably fished seafood.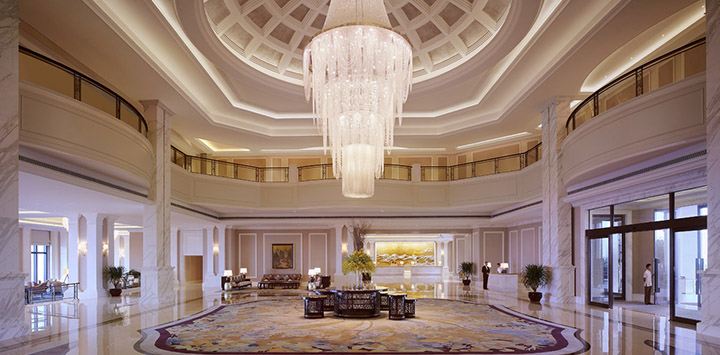 Shangri-La Hotel, Haikou opened its door on 26 November 2012 along the west coast of Haikou, the capital city of Hainan Province in southern China. Lying off the coast of the Qiongzhou Strait, the hotel is a paradise that features an ocean extending to the blue sky, sea breeze, soft sands and sunshine. This fine location also makes it the ideal hotel for business travellers. It is adjacent to the Hainan International Conference & Exhibition Center and a renowned golf course. It takes about 45 minutes to get to the Haikou Meilan International Airport and 15 minutes to get to the train station.
For more information, please contact the Events Departments via (86 898) 6870 4637.
http://www.shangri-la.com/haikou/shangrila/
Hong Kong-based Shangri-La Hotels and Resorts currently owns and/or manages more than 85 hotels under the Shangri-La brand with a room inventory of over 36,000. Shangri-La hotels are five-star deluxe properties featuring extensive luxury facilities and services. Shangri-La hotels are located in Australia, Canada, mainland China, Fiji, France, Hong Kong, India, Indonesia, Japan, Malaysia, Maldives, Mauritius, Myanmar, Philippines, Singapore, Sultanate of Oman, Taiwan, Thailand, Turkey, the United Arab Emirates and the United Kingdom. The group has a substantial development pipeline with upcoming projects in mainland China, Cambodia, India, Mongolia, Myanmar, Philippines, Qatar and Sri Lanka. For more information and reservations, please contact a travel professional or access the website at www.shangri-la.com.