Introduction & Highlights:
Extremely popular with families, couple and young people enjoying some leisure time, Haikou's Mova mall is a wonderland providing a top retail experience.
The scale of this shopping centre is amazing and you can easily lose yourself. But, don't worry, you will find information available in English and Chinese.
Once inside, ten different buildings await, each bearing the name of a zodiac sign. There are also two underground sections to explore. The choice of stores they offer is endless, including local and global brands, specialising in all sorts of things including latest tech.
There's also plenty to keep your stomach happy in the mall, with a choice of restaurants and coffee shops, offering a place to relax after all of that shopping.
You will also find a big choice of leisure attractions at the mall, including cinemas, a theatre, ice-skating rink and even a mini golf course for you to practice your swing!
When darkness falls, the lights go on. Check out the music fountain performance,
offering a colourful spectacle that always wows the crowds. It's an excellent way to finish your visit to the mall, which is located right next door to some of Haikou's most exclusive hotels.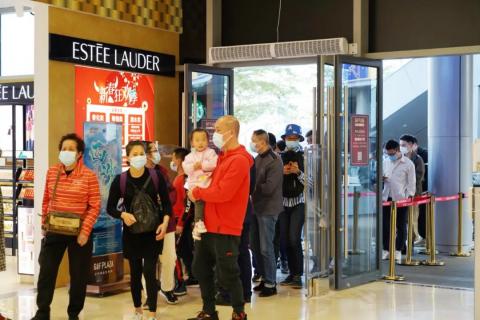 Location/Address:
Guoxing Avenue, New Dayingshan City Central, Qiongshan District, Haikou (海口市琼山区大英山新城市中心区国兴大道)
[amap center=" 110.356802, 20.016777 "]
Haikou Downtown duty free shops:
1.Location : Floor L, West 7 Sagittarius Building, Move Mall (日月广场西7射手座L层)
2. Location : 1st and 2nd floor, West 1 Gemini Building, Move Mall (日月广场双子座1-2层)
3. Location: Floor 1, East 1 Capricorn, The GDF Plaza, Move Mall (日月广场东区摩羯座1层,海口全球精品) 
Tips:
The offshore tax-free policy refers to preferential tax policies for passengers who depart the island (excluding departing national borders) by plane, train or ship.

The duty-free shopping quota has been raised to 100,000 CNY per tourist per year.

Within the limits and quantities specified by the state, passengers departing the island can purchase tax free goods at a duty-free shop or an approved online sales platforms. Duty free shops shall deliver the goods according to passengers' respective departure times. Passengers shall collect the goods in the designated areas of airports, railway stations and ports, together with their shopping vouchers, and take all goods with them to leave the island.